The Dream:
Ever since 1991, I have been writing Star Trek stories
fulfilling probably every Trekkie's dream of being able
to serve with Starfleet. Of course, these stories featured
me as the captain of a brand new starship. Although the
ship name and class changed many times over the years,
the main crew members always stayed the same.
By now, I have found a workable ship and crew that I am
confident to say will make an awesome series.
The Series:
Star Trek: The Legend Continues began as a set of short stories I wrote way back in
1991. After a few years of growth, both in the complextiy of its stories as well as the addition of
improved writing skills, this series is still trekking on into the new millenium.
Originally, this Star Trek: TLC took place on a Miranda class starship and was named the USS Midway.
In 1996, the ship class changed to a Nebula class and the ship was rechristened the USS Pheonix.
From 1999 to 2001, the series went on hiatus due to my inability to write stories after I joined the
US Navy and went away overseas.
Upon completion of my military service at the beginning of 2001, the series was revamped.
The ship is now from the brand new (and kick-ass, I might add) Akira class of starship, and proudly
carries the name USS Endeavor-A.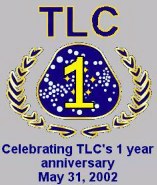 On May 31, 2002, TLC celebrated it's 1 year anniversary, and it directly cooincided with Star Trek's 35th anniversary.
In August of that year, TLC was voted as the most popular Star Trek fan fiction series on the web today
when it reached it's 600th fan / reader. The distinction of having more Star Trek fans read and enjoy
the TLC series was a major step for me as less than a year ago, TLC was virtually unheard of in the
web writers circle.
What Makes my Stories Different?:
Nothing, really. I put alot of heart into them, as if they were real.
On top of that, I spice my stories up with pictures (some of it is my own art,
but still shots from the series, movies, etc.)
What else can I offer?:
I know its awesome to be able to write your own Trek fiction, but
its even more awesome to be able to share it with other Trek fans
from around the world. Now, maybe you don't have any way of
publishing your stories to a web site, or you do, but you'd like to
be able to increase your viewing audience by publishing on other
sites...
For any one who is interested, I will publish your Trek fiction on this site.
All you have to do is email me and let me know details, and I will have no
problem putting your stories on my site for FREE! And, of course, you'd
get the credit for writing it.
Above all, I want to thank all of you who write Trek. 35 Years ago, Gene
Roddenberry began this venture with Star Trek, and it has become the
biggest and most popular phenomenon today! Thanks to all of you,
Gene will continue to live on in our hearts as we continue to honor him.