March 12, 2003
Here's an interesting update for you: William Shatner, the actor who portrayed the ever beloved Captain James T Kirk, came out in an interview this morning with NaplesNews.com in which he explained his thoughts on the current state of Star Trek and what needs to be done to fix it.
His comments included:
"It (Star Trek) needs something new. The people responsible for it have lost its way, and they need to find it again. They need a whole new group of talents to give everyone a fresh approach. By doing too many things, they have lost its way because of greed."
"They should hearken back to where it was before with good stories," Shatner said
"Curious, isn't it?" he said, "but I have never had a desire to see it, and you'd think I would ... Paramount must be worried over the lack of interest at the box office and the numbers for the series."
The full article, dated March 12th (2003), can be found here:
http://www.naplesnews.com/03/03/neapolitan/d916232a.htm
March 9, 2003
The campaign is reaching new heights! There are huge things on the horizon for us, so make sure to keep checking back here for updates. At this stage of the campaign, we really need to do everything we can to bring more people to the truth about Star Trek's current state. We need to get more people to the site, more people to the petition. So, we have now moved the campaign into "Phase 3".
Basically, Phase 3 is a challenge to each and every one of you to go out and tell everyone you can about us. Email ten of your friends, get them to swing by here and see what we have to say. Signs and posters are now available for use for anyone who wishes to spread the word even more. We need to boost our numbers now, as some VERY important things are going to be happening to us soon.
Also, for those of you who have not signed on to support the campaign yet, but are going to -- please make sure that you not only sign the petition but ALSO send us a quick email with your thoughts. Tell us briefly who you are. It will become very important over the next few months for us to be able to maintain contact with everyone who supports the campaign.
March 3, 2003
I know this was a couple of weeks past, but I still wanted to share it with you. This was a newspaper article published about the Star Trek Fan Association and the campaign in the Erie Times News, of Erie, PA. Thanks to Dave Richards, author of the article for being kind enough to do this article and for taking time out of his busy schedule to interview us!
I also wanted to welcome the newest member Trek website to the "Save Star Trek" Alliance -- the "United Federation of Planets" Message Board. Although the administrators of the board are not official supporters of the campaign, they do agree with the sentiments expressed by it -- the importance of acting now to save Star Trek. Here is a link if you would like to join in the great discussions going on at their site. I will be adding a new banner to the supporters page for this new alliance member as soon as they send me one.
March 1, 2003
I was doing a little searching around and happened on several interviews that just blew my mind. One of them is with Rick Berman (dated Feb. 27) on
SciFi Pulse
. I have included a link to the article as well as some of the quotes on the
Rick Berman page
.... Another interview was with two of the Enterprise actors, John Billingsley (Dr. Phlox) and Dominic Keating (Lt. Reed) -- neither of which is happy about the current course of Enterprise. They say they want to see more social conscience, the kind which made the original series so popular. The article was also on scifipulse.net, but was quoted from another source:
NaplesNews
.
Well our new message forum is getting quite a bit of traffic, which is exciting. Not only are supporters of the campaign joining and participating in some interesting talks, but we've also had some people who completely disagreed with the campaign. I applaud each and every supporter who was willing to trade posts with those people who disagreed -- they handled themselves in true Roddenberry fashion (calm, cool, collected, respectful, etc.) Bravo.
Another thing to watch out for -- although the campaign has hundreds of supporters from overseas, we've finally been able to set up our server so that we can have translated pages. So if you are German, Italian, or a host of other languages, remember to keep tuning in to this website. Pretty soon we will have our translated pages up and running so that we can better share the message of the STFA to the entire world!
Oh, and Happy Birthday to Jimmy Doohan (Scotty) on March 3.
February 27, 2003
TV Guide has announced that they will be accepting comments submitted by the fans on how to fix the Star Trek franchise up until March 7, at 12 PM EST. So please make sure to go by there when you get a chance and drop them a note. This is what we've all been waiting for -- a chance to be able to voice your opinions and be heard! TV Guide will be publishing numerous comments sent in by fans, so let's make sure to get them in there quickly!
GO TO TV GUIDE
February 25, 2003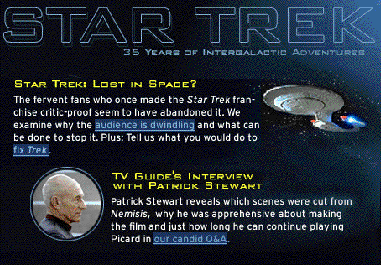 TV Guide has announced that they plan to run yet another full feature on Star Trek in it's March issue. They have also opened up their suggestion forums for fans alike to go and give their suggestions on how to fix the failing Star Trek franchise. Click the TV Guide logo above to go to their site and make your suggestions today!
We have also scheduled a new chat for Sunday, March 2 about the Borg, and just how they got to be on Enterprise. Check out the chat room page for more information...
February 22, 2003
Well, in our last update we mentioned that we now have a message board and forum... Unfortunately for us, the server we were on went down and stayed down. But we now have the forum, message board, picture board, and much more up and ready to go again! So feel free to visit our forum and join up (takes just a few moments) and begin enjoying the company of other Trek fans and supporters. Click the button below to transport there directly, or the URL is
http://trekwriter.proboards15.com
:
February 18, 2003
Just a quick note to Trish Bennett, the organizer of the "Trek Fans United" Campaign. The staff and committee of the STFA would like to offer our formal apologies for the way in which communications began between the two entities.
As you can see, we breached 6,000 supporters this past weekend, and went well beyond that. We have had a busy weekend sorting through all of the emails which have flooded our inboxes since Friday. A good weekend, so to speak, with regards to our growing numbers. I did notice one thing however -- it would appear that a vast majority of supporters emails which we get never materialize on the petition. We would like to invite ALL supporters to go to the petition again (unless you have already done so), and sign their name once so that we can better portray our numbers.
Also a quick note about this past weekends "STFA Save Star Trek Convention #1" -- although the convention took place, I was not able to attend due to severe weather in my home area. To all attendees, I offer my apologies. The convention has been "rescheduled" for a later date (to be announced).
We also have a chat session scheduled for February 23 (Sunday) from 5pm to 7pm, EST. Come join us as we talk about the latest incarnation of Star Trek on TV, "Enterprise". Discuss what you like about it, and what you don't like about it. For the convenience of our supporters, we have also added a message board to the site for people to talk to one another. Have fun, keep it clean, and "Keep on Trekkin!"
February 13, 2003
Our support is growing! We now have over 6,000 people who have signed on to help us in this battle to save Star Trek, and proudly carry the banner. We are continuing to grow, too -- so much so that we are having a hard time keeping up with everything. Rest assured, though, that we are doing our best to get back to everyone on their requests for information, convention setups, and so on. On Wednesday of this week we were proud to consent to an interview with a reporter from the Erie Times Newspaper, who will be publishing his article about the campaign today and tomorrow. Also, this weekend marks a first for the STFA as we kick off the first ever STFA "Save Star Trek" Convention in Erie. Stay tuned for pictures and news about how this campaign went.
On another note, I have been informed of a new campaign which has sprung up on the web since February 7. I have personally been in contact with the person who is running that campaign, and she was not receptive to our communications. Although she didn't admit it, her site is almost an identical twin to our own, both in wording as well as structure. Only one difference exists between her campaign and ours: hers is meant solely to save "Enterprise", not to save Star Trek or the franchise. We tried to persuade her to join forces with us, and to give her suggestions on how to better run her campaign (such as quoting sources for her information), but she refuses to listen to any of our advice which would only help her. We are telling you about this so that you, too, can see her site for what it is worth. The URL is
www.trekfansunited.bravepages.com
. We implore you NOT to join her campaign, as her efforts are merely working against us (not with us). Her campaign is one sided towards Enterprise, and even if you do like that show, she probably will not get a good majority of support since the vast majority of Trek fans are dissatisfied with the franchise AND Enterprise! However, we are in now way telling you NOT to join her campaign, merely requesting that you do not for the sole reason that we need to pool our resources together (not spread them thin). Anyways, we will keep you updated more as things begin to happen.
February 2, 2003
Yesterday marked a sad day in history for all of us here at the STFA, as well as around the world. We witnessed in sad horror as the space shuttle Columbia tragically crashed, taking seven fine people to their deaths. These men and women were truly among the first to "Boldy go..." into the vast frontier of space, and their contributions to our society will not be forgotten. Our thoughts our with their families...
Still progressing on the STFA homefront, we are now two weeks away from the very first STFA, "Save Star Trek" Convention. It will be held in Erie, Pennsylvania, and promises to be a rather big event. Plans are in motion to arrainge for many more of these conventions all over the continental United States and Canada, as well as a possible convention in Germany. Within the next day or so, I plan to have the first results from the Survey Center posted for everyone to view.
January 22, 2003
Okay, there has been a big, important update to the entire site. As you can see, both the layout and the content have been changed. Why? Because alot has happened since the last update. We have established contact with a source "very close" to Star Trek who has provided alot of inside information that doesn't reach the average fan. Although the nature of this source cannot be revealed (yet, but hopefully in the future), I assure you that it is a very deep source which has provided alot of background, blow-you-down kind of information. Our goals have changed a little bit -- as before, they are to "improve the quality of Star Trek and to save the franchise", but under advisement from this source (who has been deeply involved with the franchise for almost it's entire history), the true nature of Rick Berman and his staff has been revealed.
The true mission of the STFA and this campaign is to save Star Trek, which at its very core is the dream and vision of Gene Roddenberry. The one reason why Trek has not been the same since his death is because of the powers that be who have resided in the "center seat" ever since Gene's unfortunate passing. And so, the goal has become more clear -- the need to remove the problem at its source, which is Rick Berman and his production staff. Only once that has been done can Star Trek (and Gene's vision) live on in the franchise.
There are big things happening for us, and even more so on the horizon. So, Keep on Trekkin! and keep driving the dream home.
January 9, 2003
My apologies to all who attended the big chat last night -- I was not able to attend. I have been down and out with the flu for several days, and am just now starting to come out of it. But, from feedback from the fans (and from our very special guest), the chat went very well. I have had several requests for transcripts, but unfortunately, I cannot provide them (at the request of our guest chatter). I can, however, provide a brief rundown to anybody interested on what was talked about, as provided to me by one of our campaign supporters who did attend. I am told that it was a very interesting, fun conversation. We will be scheduling another chat with him for any body who missed it last night...
IMPORTANT CORRECTION
I received a very stimulating correspondence from the editor of The Communicator (official publication of the Star Trek fan club). He has assured me that the magazine and its parent club are alive and doing well. The magazine will not be ending its publication run, as was quoted by a popular news source. The source where we got this information was incorrect, and my sincere apologies goes out to The Offical Star Trek fan club, the Communicator's editor, and the entire staff of that publication.
January 7, 2003
Today we have added a new feature to the site -- a new Survey page. This entire campaign is designed around the premise that fans need an outlet to voice their opinions about Trek, and besides from emailing us your opinion, the surveys have been designed to do just that. Although there are just basic questions right now, they will be expanded in time to come. So, please but your thoughts in by both emailing us your comments as well as answering the surveys.
Also, we are looking for help in two areas to help the campaign. We are in need of an agent, who can sponsor the campaign and its goals, so that when we go to Paramount we will not be considered "unsolicited". Being unsolicited would kill this campaign faster than anything. On top of that, one of our promotional ideas was to produce our own TV commercial to help advertise, so we are in need of someone with experience producing such an ad. Someone with TV or camera experience, who can help us to film the commercial and to help us with contacts for selling our commercials to the TV studios. So please, if you know anybody with either of these talents, help the campaign to get in touch with them. Email me right away if you do know abybody. The campaign is still growing, so let's get down to business with getting the word out. Keep on Trekkin!
January 3, 2003
IMPORTANT UPDATE!!!
For those of you who are familiar with Peter David, the author who crafted such great book works as Star Trek: Imzadi, I have some important news. Today, Mr. David has posted a new article on his personal website entitled "Full Circle" -- in which he explains that he has heard about our campaign. With out so much as saying it, he called us a "fraud" and said that our only goal was to cancel Enterprise! Now there have been some critics of what we are trying to do, and some people have actually been very negative about this campaign -- I have ignored them all, since they seem to be an extremely small minority of the response to this campaign. But I feel that I must reply to Mr. David on this one...
The goals of this campaign are not, in any way shape or form, tended to the premise that we are trying to 'cancel' Enterprise. All of our campaign goals and desires, including the letter writing and petition (singular, not plural, Mr. David) are reflected by the words written on the pages within this website. So, to any and all Trek fans who happen by this site, and to the people already supporting this campaign, I implore you -- make your own judgement based on what you read from this campaign site. There are no other hidden agenda's beyond what you read here, so please do not allow the second-hand hearsay of others to convince you otherwise. This campaign and its goals is not a fraud -- it IS real, with real goals and plans. We are here to save Star Trek, not kill it as some people would suggest. Not one of the administrators here, including myself, would propagate such lies about anyone else -- and furthermore, I would even go so far as to invite you to read this article on Mr. David's site by click the link here :
www.peterdavid.net
. Read his article, then read our site, and you be the judge. Thank you.
PS -- It is true that I do not like Enterprise personally, and neither does a vast majority of fans who have communicated through us. If this series was to be canceled, I would not shed a tear. However, it is not the goal of this campaign to make that happen.
December 31, 2002
Support for the campaign is growing, and our game plans are also mounting. We have several things that are going to be happening sometime soon, but I will wait to announce them until we have solid plans. The media is beginning to catch wind of the campaign, and the voices of fans are crying out louder than ever. Our chat sessions, which were only supposed to happen once every few days, have brought excited campaign supporters out in flocks. Although we only started the chat sessions with a few people, the number now attending grows steadily every time we do it. And, the chatters are so excited about what we are doing, we have been hosting several chats a day for the last few days! I have also added a few new websites that are supporting this campaign on the Websites (links) page.
Well, that's about it! Continue bringing in any friends you know, advertise this site where ever you can, be loud about it! Tell people what you think and do not be afraid to risk their ridicule! Look what we're doing here! And as always, Keep on Trekkin! Look for more updates within the next few days, and for all of you -- Have a Happy New Trek Year!
December 27, 2002
Well, although our numbers are still growing, they are slowing down. No matter, in about two days, the press release announcing the campaign is going to be aired on television and newspapers across the country (US). We're expecting an explosion of people to come swinging through the site, and our numbers will increase exponentially. As you may or may not have noticed, we have added a chat room to our site -- thanks to Luc Dupruis for that. Also, we are going to be scheduling and holding chat sessions from time to time to allow the supporters to get together and speak all at once. Check the schedule on the chat room page for more.
December 21, 2002
Okay, I posted a few new reviews on Nemesis from campaign supporters, just so we could get different opinions on the movie. I want to show that there are very many different takes on what we all saw, and that alot of them are fairly close in scope. Enjoy them, and keep up the good work getting people to check out this site and to join. We are still averaging about 90 emails every hour, and it's keeping us very busy. I would, to be honest, rather a thousand emails an hour though. So let's continue getting the word out there and give everyone the chance to support Trek in this campaign.
December 20, 2002
I had a great conversation with one of the campaign supporters today, and his enthusiasm for this initiative has only strengthened my convictions. You know who you are, out there in the Mid-West, thanks.
Okay, today I posted my own review of Nemesis on the site. It is VERY long, and some would consider it harsh and too in depth. I apologize if my thoroughness offends anybody, I certainly don't mean to. I just want people to see what all was wrong with this film -- and you can take from it what you wish.
We had a productive day yesterday with new people joining the campaign. We jumped almost 900 people yesterday alone. For those of you who are trying to contact me via email or phone, I apologize for taking so long to get back to you. I literally get about 80-100 emails every hour from new people, and it takes time to respond to all of them.
As for the phones, I have been working hard to answer everyone's calls, but literally my phone is non-stop on my ear right now (might as well glue it there). So if you call and can't get through, or you get my voicemail, feel free to leave a message or try back later and I will do my best to answer everyone. Also, there was a severe storm here last night, and my fax lines have been knocked out. If you're trying to fax me something, please wait until tomorrow when my lines have been restored. That's it for now -- thanks, take care and Have a great day!