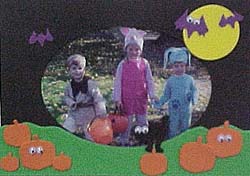 Halloween Frame
Display your favorite trick-or-treat photo in a "spooktacular" foam the kids can make themselves.
You Need:
Black
Foam Frame
Green
Foam Frame
Halloween Foamie Stickers
Scrap of Yellow
Craft Foam
Tacky Glue
5mm
Wiggle Eyes
Cardboard
4-1/2"
Cardboard Easel
or
Magnet
and
Low Temp Glue Gun
(optional)
Scissors
Toothpick
Photo
Tape
Instructions:
Cut a green foam frame in half lengthwise. Trim with an uneven cut as shown in photo above. Glue to bottom of black foam frame. Cut a 1-1/2" circle from yellow craft foam. Glue to the top of one corner of the black frame. Stick on foamie pumpkins, black cats and bats. Glue on eyes using a toothpick to dab on glue.
Tape photo to back of frame. Glue on 5" x 7" piece of cardboard to back. If desired, hot glue on cardboard easel or magnet.


Ages 6 & up.
You need:
Craft Foam
: 1 Sheet each of Orange, Green, Black, White, Purple
Tacky Glue
Eight 1" Suction Cups
Stapler
Scissors
Black and White Enamel Paint & Paint Brush (Optional)
Instructions:
Suction cup eyes will stand out more if you paint the backs with enamel paint. Do not paint the flat part of the back where glue will be applied. Dry thoroughly
Print patterns for bat, pumpkin, skull, and Frankenstein. Staple patterns to craft foam at edges. Do not staple inside the areas you will be using. Cut out pieces, assemble and glue. Glue suction cups in place. Stick them on window to watch for trick-or-treaters.


Windsock Ghosts
Another great classroom project! Very inexpensive and fun to bring home on the bus!
You need:
Two 9"x 12" White
Craft Foam
1/2 Piece Black
Craft Foam
Kid's Choice Glue
,
Low Temp Glue Gun
, or
Tacky Glue
Hole Punch
Stapler or Brass Fasteners
White String
White Plastic Bag (we used half of a tall kitchen bag)
Instructions:
Cut a plastic bag into 1" to 2" strips. Cut a ghostly face out of black craft foam. Glue it to the middle of one piece of white craft foam. Turn foam face upside down and glue strips of plastic bag all along the bottom edge of both pieces of foam.
Staple or fasten sides of foam together to make into the ghost head. Punch a hole in each side. Add a string to hang.