Star Trek: The Legend Continues


To receive a copy of the episodes...
There are two ways to get copies of these stories. Your first option is to drop me an email by clicking the email button below. Send me a little message and tell me what episode(s) you want, then I will email them to you within 24-48 hours.
Mailing List
If you fill out the short form below, you can join the TLC Mailing list. The advantage to joining the list is that you don't have to keep coming back here every time a new episode is published -- it gets emailed directly to your inbox. It will only take you about 30 seconds! NOTE: You have my solemn word that no "junk" mail will come to your box through me. The purpose of the mailing list is to develop a "relationship" between this writer and any possible readers. Only stuff related to The Legend Continues will be sent to your email.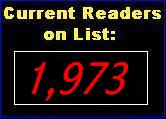 Why can't we just Download them?
As you can see above, there are now over almost 900 people who read TLC on a regular basis, and the number grows more every day. That's 900 people who are satisfied that TLC is a great reading experience, and the best of Trek on the web. When that many people try to download stories at the same time or day, it tends to slow down the system. That's why I went to this new system. I would prefer if you joined the mailing list, because I can learn more about what you want to see, and in turn write better stories. But, if you feel uncomfortable joining the list, I understand.
How do I know I'll even like these stories?
Although I can't offer the episodes themselves as downloads, I can offer short "Teasers" for each one that will give you an idea of what you'll be reading. The whole purpose of the "Teasers" is to grab the readers attention and make them interested in the story. If the "Teasers" do grab your interest, then feel free to email me for copies or fill out the form below. Click the "Teasers" button to go to that page.